VANAD Engage: Analysing phone calls with Machine Learning
Outsourcing "Customer Experience Center" VANAD Engage is continuously looking for ways to leverage technology in order to improve the effectivity and efficiency of the work they perform on behalf of their customers. They strongly believe that they can improve customer experience and lower operational costs by leveraging innovative technology in order to gain real-time insights during the conversations. They challenged Artificial Industry's data team to create an innovative solution for this. We created a "conversational insights module" that supports their employees to monitor 'hot topics' and act accordingly.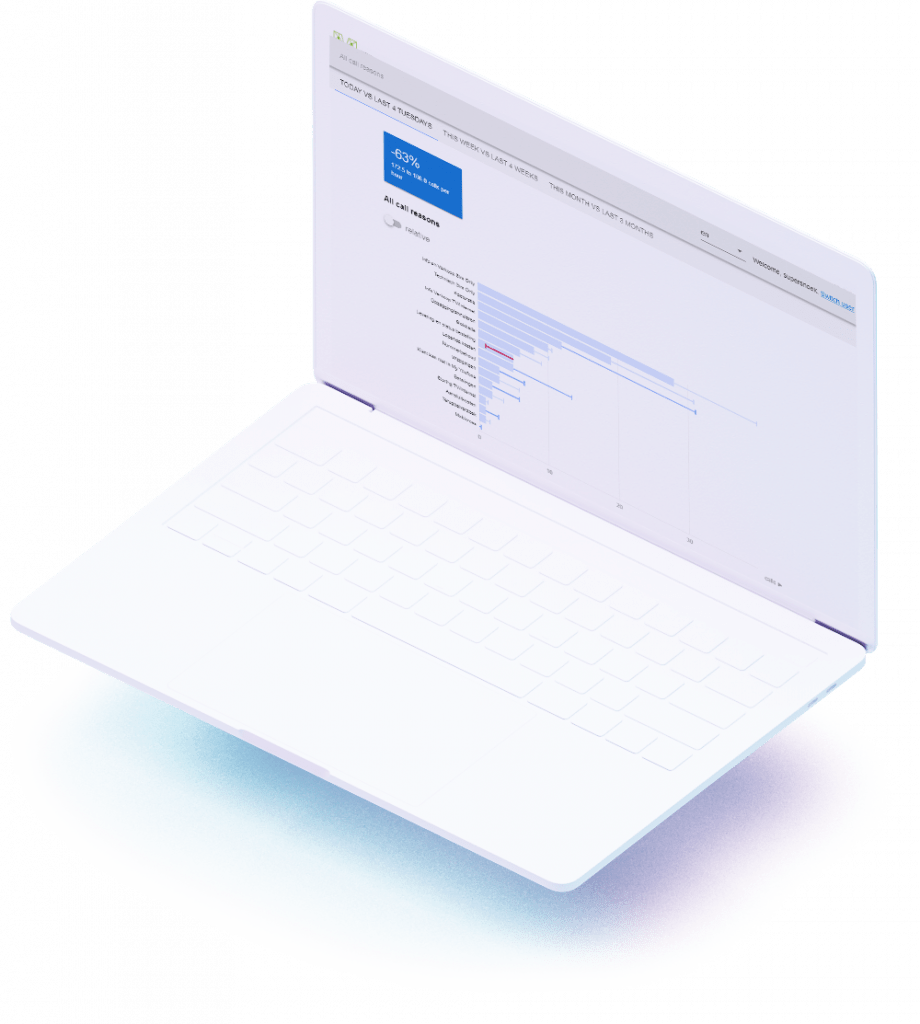 Strategy & Advice
Concept & Design
Application Development
Hosting & Support
The topic detection platform is created for team managers of the contact centre of VANAD Engage.
The innovation project resulted in a topic detection tool to analyse conversations between customers and call agents to give insight about what subjects people are calling customer service for.

The project is currently used for real-life conversations to test and improve our innovation. We are aiming to use this smart data tool for more than 1000 call agents in the future.
The customer experience centers of VANAD Engage help their customers increase their brand loyalty and decrease their TCO, in other words, the total costs of a product or service during the whole life cycle. One of their goals is to pull out the right information efficiently so they can excel in the experience they are offering to the customers of their customers. In order to do so, VANAD Engage makes sure the teams have the right skills, are well-staffed and achieve high customer satisfaction. Also, VANAD Engage needs to be proactive by detecting and communicating important events and insights to their clients so that they can improve their customer loyalty. In order to help management gain insights into these conversations while avoiding having to do the tedious job to listen to all conversations that take place, we built a solution that helps team managers to monitor and analyse conversations efficiently to rapidly gain insights into important trends and possible issues.
We built an application that transforms speech to text, detects topics based on frequency analysis and makes comparisons with conversations in the past. The first step is to transform conversational audio into text using speech recognition. Once a textual representation is created natural language processing is applied to label the conversation and extract topics. The topics are not pre-set by an employee but are dynamically 'chosen' by the algorithm. Team managers can compare today's conversations with those of yesterday (or another point in history) to detect and analyse trends. Several kinds of comparisons can be done, for example: 'Today versus last 4 Tuesdays', 'this week versus last 4 weeks' and 'this month versus last 3 months'. For these comparisons the team manager can access the main topics and find subtopics per main topic. Also, the increase in topic frequency is shown to give the team manager more insights about what subjects customers are calling.
Opposed to traditional quality monitoring, a lot of effort can be saved when a team manager knows why people are calling as opposed to the previous period. These parts can be specified as 'hot topics', specific terms that summarise conversation parts and which are occurring in other conversations as well. The solution lies in topic detection to find the most common topics. Topic comparison allows detection of trends that indicate significant events. For example: when the topic 'service outage' doubled over the past hour then there might be a bigger trend that deserves attention within the customer's technical operations team. New topics can be detected in a very early stage which allows the team to be trained accordingly and the customer gaining optimal insights into what is happening within the journey of their customers.
Our planning can therefore create a better forecast for the next days. In the future, the tool will help us train and coach our call agents better. We also have good insights in in the effects of campaigns, system malfunctions and changes in services.."

- User Maurice - Team Lead TelCo VANAD Engage
"Vocabulary of the tool consists of over 250.000 words."
Internally Kaldi (the toolkit we use for speech-to-text) translates words in its vocabulary to possible pronunciations. We've expanded this list of pronunciations with telecom providers, common Dutch pronunciations (like 'wiefie' for example) and other words we might expect to be used in a conversation with telecom providers.
On the most powerful Amazon compute instance (c5.18xlarge (72 cores, 144GB ram)) we can transcribe 24 hours of audio in less than 30 minutes.
Combining speech to text with a topic detection algorithm results in a powerful tool that equips organisations to optimise and make their customer an even happier one. The team manager can monitor conversations efficiently while detecting important trends. The application supports organisations to become less latent and more proactive and decisive. Even better, in best practice, the organisation excels in solving problems before their customer gets the chance to discover them. Because down the line, a happy customer is the highest possible achievement.