In a previous post, we explored the BPO industry's evolution, and why companies must embrace a knowledge outsourcing model in order to remain competitive and enable superior client CX delivery.
Facilitating high-quality customer experiences is certainly a key factor driving the BPO industry's shift, and we've written many times about how technology innovations can help companies meet customers' ever-growing service expectations.
But what about the benefits this model brings to BPOs themselves? It should come as no surprise that there are many, but below are a few of the most compelling examples.
Evolving to a Higher Profit Margin with Knowledge Outsourcing
The knowledge outsourcing model enables BPOs to replace their perception as an outdated service that trades time for dollars with that of a modern, profitable company with automated services with CX experts and intelligence. By combining digital agents, automation, and new, more advanced CX consultancy services, BPOs can enjoy dramatically improved profit margins.
As the chart below illustrates, live agent support services typically require operational costs of 80-90% and offer profit margins between 5-10%. Digital agents, automation services and CX consultancy services, by contrast, deliver significantly improved numbers.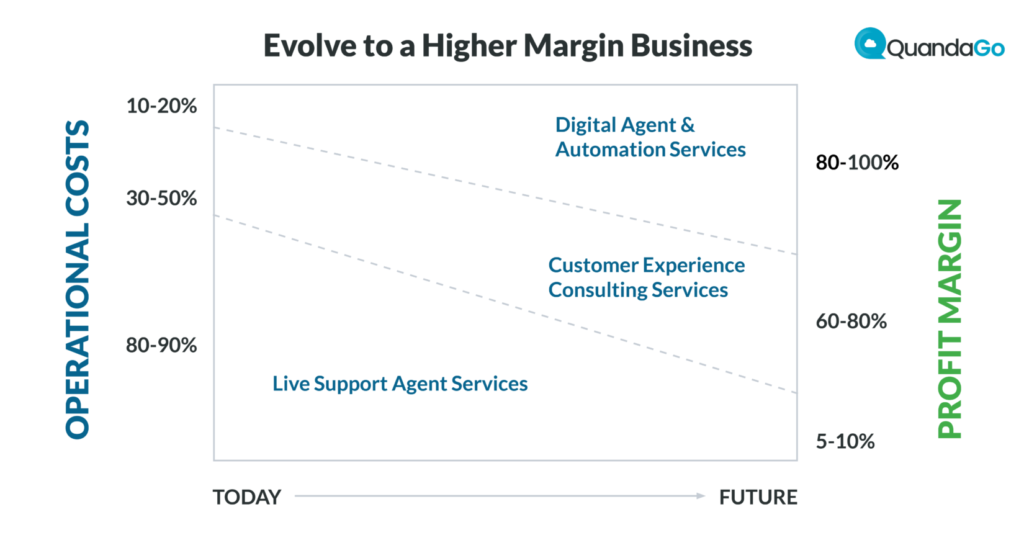 With the right contact center platform combined with automation capabilities, BPOs can optimize—and in some cases completely automate—processes, such as new customer on-boarding, payment and dispute management, returns, renewals, and payment arrangements. As this happens, live agents will be freed up to focus on more complex, value-oriented work, and BPOs will see massive cost savings and efficiency improvements. In addition, there are financial benefits in the form of reduced turnover and recruiting, as well as infrastructure and real estate implications.
Innovative Client Services
Another key benefit of knowledge outsourcing is that it enables BPOs to move up the value chain, positioning themselves as a strategic partner that can help clients exceed their CX goals.
For example, we work with some innovative BPOs that have begun designating CX analysts to spend a portion of their time with select client companies every month. Trained on emerging CX techniques and best practices, these consultants can identify trends and processes and optimize CX results for the client by leveraging the latest analytics software. Examples include:
Analyzing performance and CX data to optimize the end customer experience.
Reducing the number of both live agents needed and contacts needing live support with digital agents and process automation.
Helping increase customer acquisition and retention and, increasing Lifetime Customer Value.
It follows that these services help BPOs deepen and strengthen their client relationships and lay the framework for a long-term partnership focused on CX improvements and standing out from the competition. To learn more about these and other benefits of the CX BPO of the Future download our industry paper on the topic today.