Perhaps you are looking for ways to outsource (some) of your contact center services. This would certainly make sense, since it would allow you to put a stronger focus on your core business. Therefore business process outsourcing (BPO) is the way to go for many companies when it comes to contact center automation.
BPO contact center software helps call centers automate and optimize their business activities. It helps them save time, money and other resources by streamlining their business process management. This is especially the case if you opt for omnichannel contact software. An omnichannel approach allows you to integrate all of your communication and marketing channels and mold them into one seamless and high-quality customer experience.
But what does a successful BPO omnichannel contact center look like? What are the factors needed for success? And how does QuandaGo help? Read on to find out!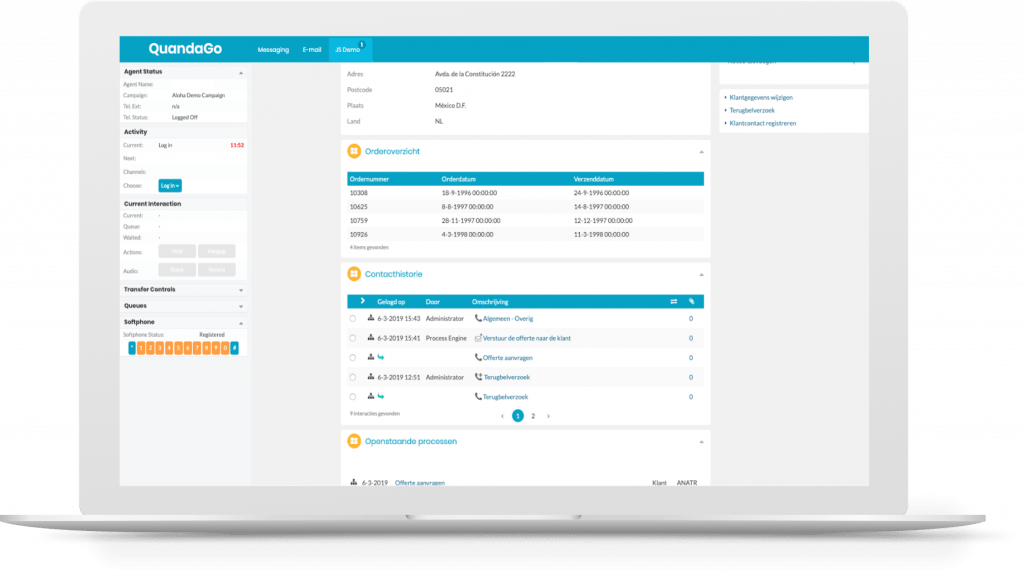 What does a successful omnichannel contact center look like?
A good omnichannel contact center delivers a seamless customer experience. The difference between an omnichannel contact center and a multi-channel contact center is that an omnichannel experience entails more than just using different communication channels. It actually harnesses data and the functionalities of different channels and platforms to deliver an integrated experience. Companies using this technique align their messaging, goals, objectives, and design across each channel and device.
VodafoneZiggo is a company that has made giant steps towards building a modern omnichannel contact center, allowing them to reap the full benefits of call and customer center automation. For example, the company uses smart software to quickly achieve results, but also leaves plenty of room for human contact that allows for complex and personal interaction. The company also uses a tailor-made and personalized approach through all channels that allows contact center agents to skip a lot of the standard questions and go straight to personalized advice.
Maybe even before you contact the company, VodafoneZiggo can send you an app with a personalized message. 'Please install this update' in the case of planned network maintenance is a good example. VodafoneZiggo also uses screen referrals to other contact channels and predictive software that shows customers relevant suggestions for additional services.
The factors needed for success
Now that we have seen a real-world example, it's time to focus on the factors needed for success when it comes to implementing omnichannel customer service automation. Let us list the most important ones.
Integrated call center automation software
The seamless integration of systems, applications and data sources is an integral and indispensable part of omnichannel contact center automation. Companies that have mastered the art of customer service automation know the importance of and rely on integrated tools that track consumer interactions and integrate data across a multitude of channels.
Such an approach delivers omnichannel contact software tools with a unified architecture that combines all necessary systems, data and processes. The result? Customers get reliable and up-to-date information about the actual status of products, services and orders across all of your channels.
Map online customer journeys
Improving your customer service automation starts with knowing the desires and needs of your customers. This means that mapping customer journeys is of utmost importance if you want to improve your contact center services. Knowing the browsing and buying habits of your customers allows you to take service levels to the next level. Do they prefer self-service? Do they prefer mobile or desktop devices? And do they regularly check specific web or product pages? Mapping all these habits and preferences allows you to tailor your customer services to personal needs.
Use contact center AI
Contact center AI makes it easier to match call center customers with specific customer personality models. Contact center AI allows you to analyze huge data sets (big data) in an automated fashion, making it easier to create highly personalized customer interactions. You can also free human agents to focus on more difficult and specialized calls, providing them with real-time information, workflows, and turn-by-turn guidance. And also good to know: many contact center AI solutions integrate easily into existing technology for contact center automation.
Intelligent routing
Omnichannel contact center automation links customer data and personal information from all thinkable sources of interactions. When you combine your wide array of content center software solutions with your ERP systems, CRM systems and intelligent call routers, sending a customer to the best agent or department right away becomes a piece of cake.
Adopt a cloud contact center solution
The contact center of the future largely resides in the cloud. Why? Because the cloud makes it easy to manage data from applications across all service channels and coordinate them with agents, customer relationship management teams and other departments (marketing, billing, sales, e-commerce).
Maintain consistency across all of your channels
Modern customers expect a certain level of consistency across all of the channels that you offer them. And rightfully so. This goes for quality, but also applies to the tone of voice and visual cues that you use. So be sure to provide consistency by clearly defining user interface and feature standards across channels. It's also important to align customer expectations with the capabilities of your channels and staff.
Keep gathering information
Keep gathering information during every phase of the customer journey. This means following your customers from channel to channel, collecting all kinds of valuable data along the way. Are people shifting from social media to chat, and eventually to a live agent? Then their complete histories and account details go with them, eliminating the need for repeat questions and the renewed input of already known customer information.
How does QuandaGo help?
Our unique Connected Experience Platform brings your company's interactions, knowledge and processes together in a single place.
Our platform enables customers and agents to move freely between all channels.
We help you to increase customer engagement and loyalty by providing real-time and historical reporting for supervisors and agents.
QuandaGo offers advanced automation solutions like agent assist, suggested next best actions, and virtual sales coaching to support agents throughout the entire customer journey.
The QuandaGo Connected Experience Platform enables your company to integrate messaging interactions with the ability to support thousands of messages per day. This allows you to connect as many agents as needed.
Bring all your company and customer data sources together and use this bulk of information to make intelligent routing decisions.
More information
The strategies, best practices and tools outlined in this article build a good blueprint for omnichannel contact center success. Do you want to make serious work of improving your contact center experience? We're happy to help. Drop us a line at +31(0)73-62 34 097 or send an email to hello@quandago.com.