"If you prepare yourself for the future, in the future – you're too late."
These were the words of VANAD Group founder Ad Nederlof during his key-note speech at the APCC Congress in Portugal last week. 
The APCC Congress in Portugal has always been a platform for CX leaders and visionaries to come together and share their insights. On this occasion  Ad Nederlof, founder of the VANAD group, ex-CEO of Genesys and long-standing entrepreneur in the international CX market, was present upon special invitation of the APCC. With his exceptional expertise and innovative mindset Ad shared his vision on the future of CX. 
The CX world is going to be exposed to a lot of change, just as a large number of other professional environments. New technologies like AI will have an important impact on the role of the contact center agent and other professionals operating in the CX space. It's not that the agents will disappear, but their role will change. It is likely that the simpeler and more repetitive tasks will be taken over by technology, leaving the more complex interactions for the agent. This is likely to have an impact on agent profiles and agent training, but technology – think of solutions like ChatGPT for example – can also support the agents while interacting with an end-customer. 
A lot of interesting but also challenging developments. Professionals operating in Contact Center / CX market – and especially BPO's – need to get their head around this and need understand how to leverage such technologies. Ad's message for them was to start testing and experimenting with these new solutions now. Start small, understand how these new developments can impact your services, experiment with them, get a feel for how to best utilize them in support of your agents. The future is happening now. If one prepares for the future in the future one is too late.  
For more information on Ad's keynote, the slides are available here.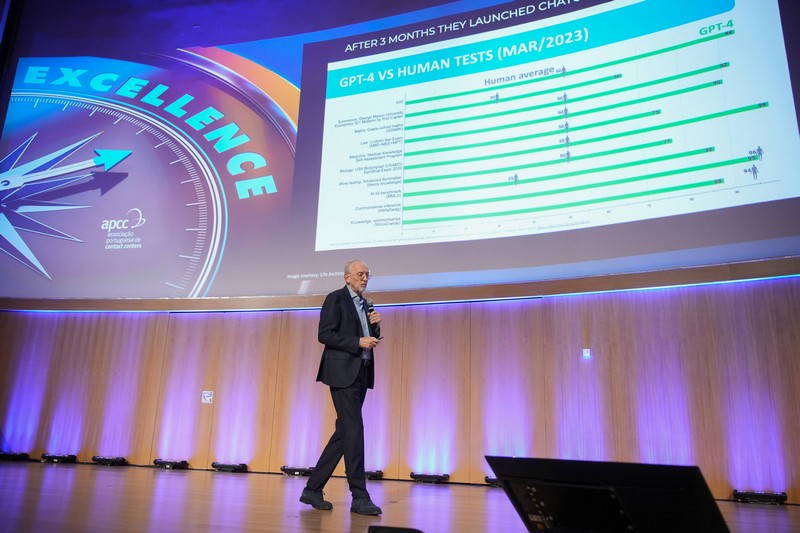 QuandaGo is a CX company which very much embraces Ad's credo. QuandaGo's solutions are designed and developed to help organizations to embrace the value of new technologies today, by starting small and scaling at need, and by doing this without necessarily replacing any existing solutions.
Do you want to know more about the QuandaGo platform? Do you want to better understand what technologies are available to optimize your current service organization? Are you interested in doing this without changing your current CX infrastructure? Reach out to us for a meeting or schedule a demo today!