BPO Virtual Panel Discussion — Register Today!
According to Gartner within the next few years "…customer service will evolve from a cost center into a profit center by having greater responsibility for the customer relationship and journey." Before this can happen in the BPO industry, however, it must transform from a legacy transaction-oriented model to a more value-driven, knowledge outsourcing approach.
On Thursday, 7 July from 11:30 to 12:15 CET, we'll be hosting a virtual BPO panel discussion webinar with innovators Gradén Mattsson and Engage and CX automation experts QuandaGo and Younicorp.
During the Q&A-driven session — little to no PowerPoint — we'll explore the latest developments in BPO services and business transformation in greater detail, including how to achieve higher profit margins with new services vs. more traditional BPO business models. Following is just a brief overview of the topics we'll be covering:
The Modernization Imperative
To put it bluntly, the traditional contact center infrastructure and approach are ill-equipped to meet today's omnichannel customer service needs. Critical data is too often locked away in silos, prohibiting agents from effectively resolving customer issues and leading to a frustrating customer experience. What's more, the entire process is typically too time-consuming—it's not uncommon for it to take days or weeks to complete the customer process across all relevant departments.
The BPO of The Future
By comparison, a modern contact center approach combined with data analytics and process automation can accelerate results and improve experiences for the agent and customer alike. By integrating and unifying customer data into a centralized agent dashboard, automating repetitive and manual tasks across the customer journey, and connecting customers to the best resource both inside and outside of the contact center, forward-looking BPOs are re-writing the playbook for success.
New automation services and new levels of CX intelligence, including knowledge outsourcing, are enabling today's BPOs to move up the value chain and evolve to a higher-margin business. For example, as automation subsumes many mundane, repetitive tasks, live agents' time is freed to spend on more complex, value-oriented work. However, this is just the tip of the iceberg when it comes to the industry's ability to deliver new, more innovative services.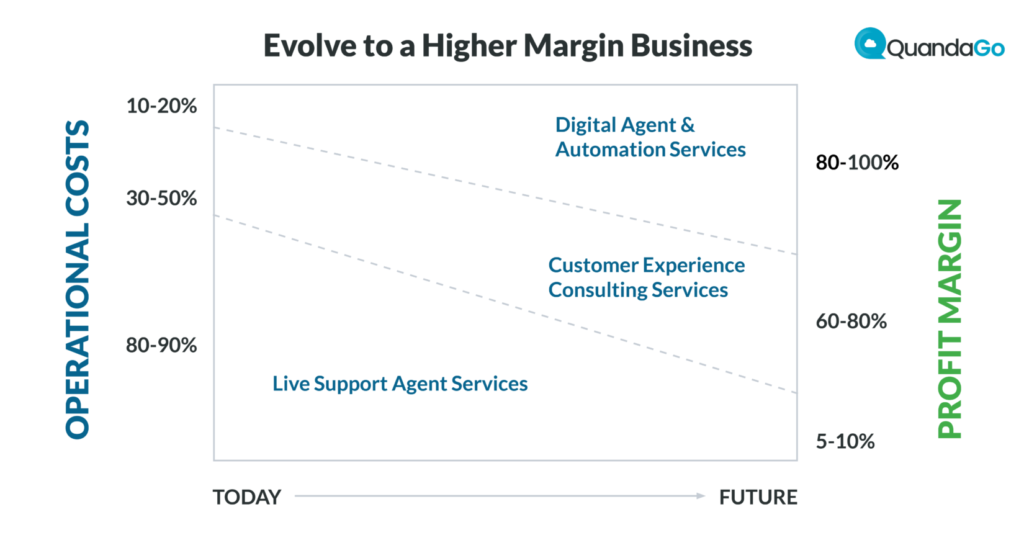 Transforming into CX Consultancy
Increasingly, we've been helping BPOs redefine themselves as strategic partners in customer experience best practices. Through CX data analysis and consultancy services, these companies are deepening their customer relationships and becoming a central part of their clients' customer experience strategy and goals.
Click here to register for our upcoming panel discussion webinar where we'll walk you through how to achieve this and other benefits of a modern BPO. The BPO of the future is here, so what are you waiting for?