Earlier this year we started to investigate the experiences around the reports. Many of you know the emails with a csv, pdf or excel file as an attachment. The results from our research: The information is useful, the channel is not.
That is why we are migrating the Interactions Reports to the Data Lakehouse. You will be able to find these reports in Snowflake in the Interactions-database.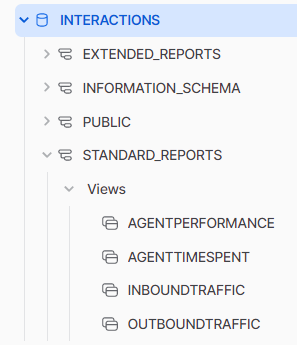 This has three major advantages. First of all, it is more secure. No more data that goes over email servers to your mailbox. No more creating tickets to opt-out mailed reports for your co-workers who left the company.
Second, you are free in the way you want to consume the information. You can open them straight in the User Interface from Snowflake via a worksheet or a dashboard, or add them to your PowerBI dashboards. Another possibility is to have a good old Excel spreadsheet with the reports you want on your desktop, with the push on a button the data refreshes. In this video our expert Richard explains how to achieve this.

Third, you are free to create your own reports. Is your ideal situation slightly (or completely) different from what we've created, no problem. You can easily create your own report and consume it in the way you like. We've created a video to show you how you can create your own Reports.
Recently everyone who receives reports via mail was asked to notify us on which he/she would like to see in the Data Lakehouse. At the moment, we are migrating all reports one by one.
Check out the documentation of the Data Lakehouse for more information.