All contact centers must sooner or later move to a cloud platform. The market for cloud platforms is dominated by established parties, but the range of alternatives has grown tremendously in recent years. In this blog, we provide an outline of the market so you can make a more informed decision when considering a cloud migration.
The cloud-based contact center market continues to grow and is expected to exceed $51 billion by 2026, according to Markets & Markets. The market is largely owned by a number of large pure-play providers and a limited number of smaller companies and start-ups. . A key decision point in choosing a cloud-based contact center platform is the location where the application runs. This is relevant in view of the GDPR and is roughly limited to two choices: inside or outside the EU.
In Europe, a key growth market for the customer contact center sector there appears to be a preference for European cloud platforms. Research by Datacenter BIT among more than a thousand IT decision-makers in the field of management, storage and data security even showed that about one in three IT decision-makers (35%) are seriously considering switching to a European cloud platform. Two thirds of them say they are confident that data will be processed there securely and according to European guidelines. Meanwhile, the European contact center market is growing like crazy. Not only in a traditional contact center country like the UK, but also in Spain, Greece, Germany and in emerging countries from former Eastern Europe, more and more multilingual contact centers are being set up, both outsourced and in-house.
The global growth of cloud and cloud services can also be seen in the development of applications. New entrants in particular are investing heavily in R&D, especially in the areas of AI and process integration. The former is the answer to wanting to monetize the mountain of data that contact centers are sitting on top of. The deployment of AI is primarily focused on automating interactions and gaining insights and suggestions for conversational up-selling and cross-selling.
The second is primarily focused on thinking and acting in end-to-end processes and chains, something that is becoming increasingly important as companies recognize that their customer journeys extend beyond the walls of the contact center and sometimes even beyond the boundaries of their own organization.s.
And finally, the line between CRM and contact center platforms is blurring. Providers of both solutions are increasingly offering mutual integration capabilities, leaving it up to the customer to decide which system becomes leading: the customer contact platform with CRM integration or the CRM system with contact center functionality.
Trends in cloud
What are the trends that decision makers need to consider? In addition to the increasing importance of data governance and compliance, more functional developments are also playing a role. This is clarified by recent research by Centric. This shows that currently almost every organization (92% of those surveyed) uses cloud applications/cloud computing technology. Consequently, 76% of respondents indicate that cloud use is part of their innovation goals. For 87% of respondents, rapidly scaling up and down in capacity is the main reason for using cloud solutions. 62% of respondents consider the reduction of maintenance intensity a relevant aspect. Relieving the burden on the in-house IT department is also seen as one of the reasons, especially with regard to management tasks. 57% indicate that quickly rolling out new functionalities is an advantage. The top five benefits are concluded with location- and device-independent working.
Similar arguments can be seen among companies opting for cloud-based contact center solutions. Research by Ziptone shows that only a small proportion of organizations still have their contact center platform running in their own server room (20%). Of this group, 42% plan to switch to a cloud solution within a year. Remarkably, 33% of this on premise group has no plans to switch. The main reasons for this are: the existing solution 'suffices fine' (38%); existing systems must first be written off financially (23%); the infrastructure is not yet technically in order (23%). In 15% of cases, regulations and/or privacy stand in the way of cloud adoption.
So, for those who, as contact center managers, have not yet migrated to the cloud: you are not alone. Even though that 20% seems like a small group, there is still a lot of work to be done. Both companies in general and contact center managers in particular have their arguments for choosing the cloud in the short term well in hand.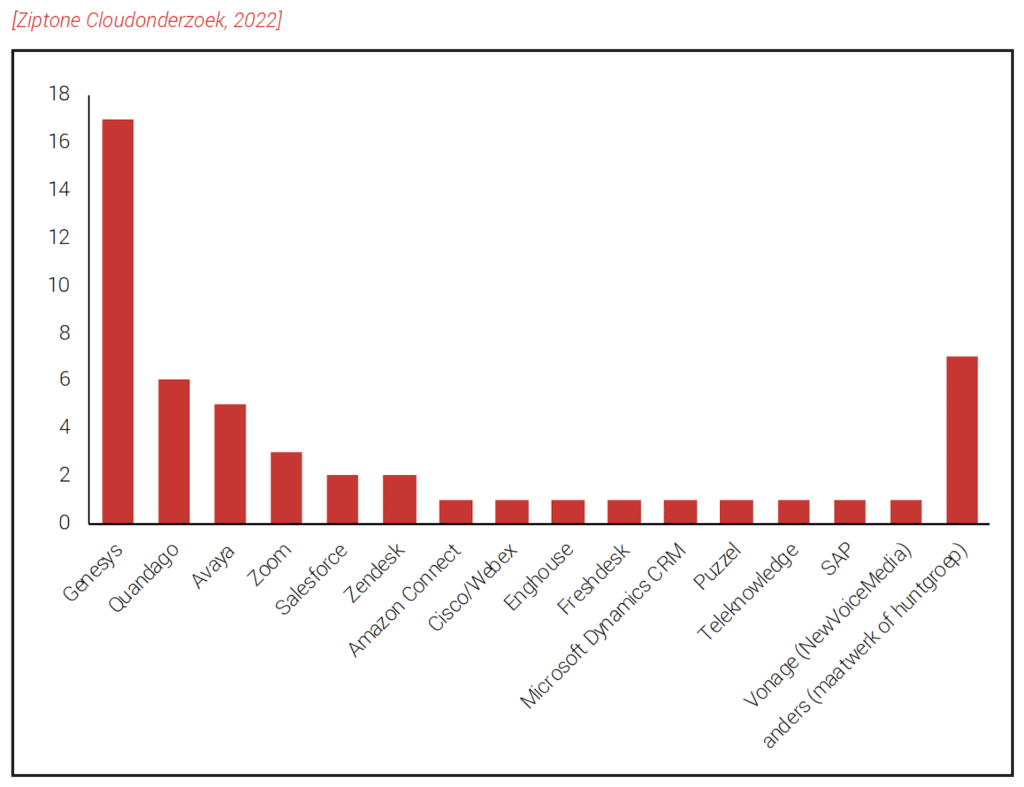 Centrix asked how far IT decision-makers have progressed in moving their IT landscape to the cloud. 45% say they are in the implementation phase. 26% are in the post-migration development phase and 14% are in preparation. 18% are already in a post-migration development phase. Centric also collected views on challenges and obstacles. Besides strategy and policy, the second biggest challenge (at 19%) is the cloud migration itself, according to IT managers. This is perceived as complex: think about moving virtual machines, linking to databases, presenting the relevant data, testing configurations and effectively moving the workload to the cloud. In third place is the lack of expertise within companies (16%). The rapid increase in cloud usage brings with it many new techniques that require a thoughtful approach. Often organizations lack internal knowledge and bringing this knowledge in-house is becoming increasingly difficult due to the tight labor market.
In customer contact country managers give the following reasons for a planned cloud migration: better functionality, better integration possibilities, innovation/faster use of new functionality, always the latest version (44%) are at the top. But better security (38%) and more possibilities to scale up/down (25%) are also mentioned. Pay by use and in line with IT policy are also mentioned, as is working from home (19%).
To learn more, including why QuandaGo is ranked the #2 cloud contact center application provider, check out Ziptone's research report (in Dutch) here.